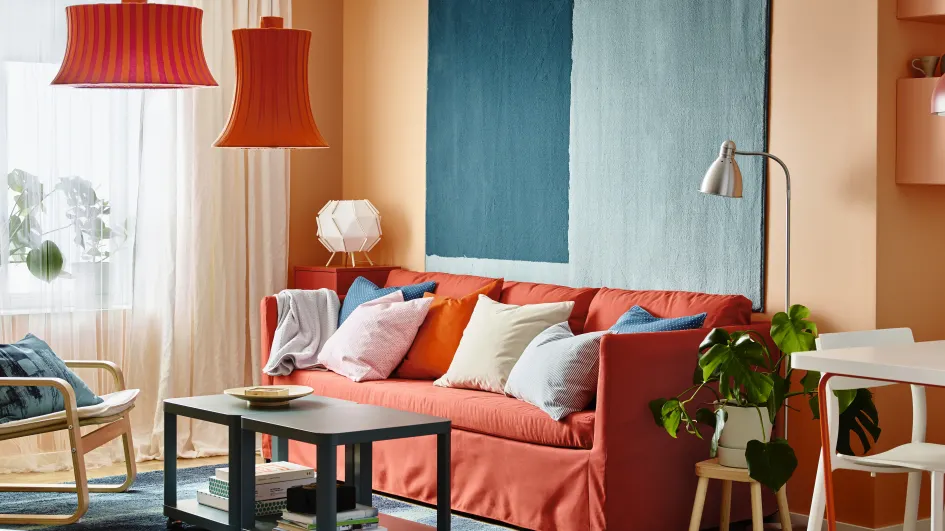 Living Coral, a wonderfully warm shade of orange-pink is not just the colour of the year but also influences product, graphics and fashion industries annually, kicking off a display of its versatility. This vivid shade is reminiscent of warm sunsets and luscious florals and is often confused for peach, although peach is a softer tint. Living coral is a playful color to bring indoors. It cultivates energy in dull interiors and acts as a pleasant focal in cramped spaces! Manifest the magic of Living Coral in your home in these effortless ways-
Pairing Palette

The warm tone of Living Coral is extremely dexterous when it comes to interior decor. The only time it takes slight effort is when choosing colors to pair it with! Living Coral creates a cool statement with minty shades like oceanic teal, sky blue or sage green. When paired with shades of grey and black, the decor look created is more understated and sleek. For a Pop themed decor, Coral looks pleasing with tints of orange or mauve. Pair it with Tiffany blue and you have a rich and heavy combination that is simply stunning decor. Bringing Coral to minimal white decor radiates energy throughout the room and creates a much-needed contrast!
Matching Materials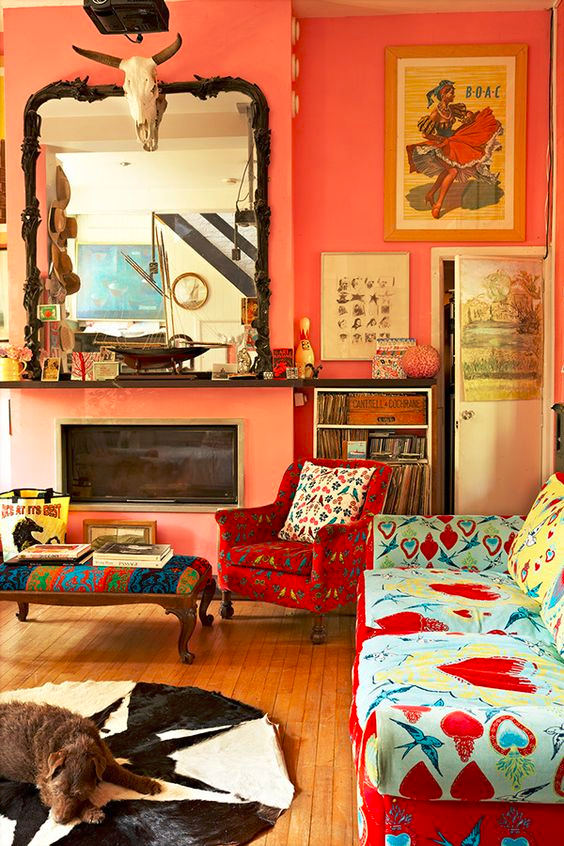 When painting your walls with the vigorous Living Coral, go for wooden flooring to create a balanced, chic look without bending towards the feminine aesthetic. Pair Coral with vintage gold accents for a luxe effect on your decor or with stainless steel for a modern, neat impression. Accent chairs with steel legs definitely look pleasing to the eye. When using Living Coral fabrics and prints, the sky's the limit, as you will soon find out!
Enliven Your Furnishing with Coral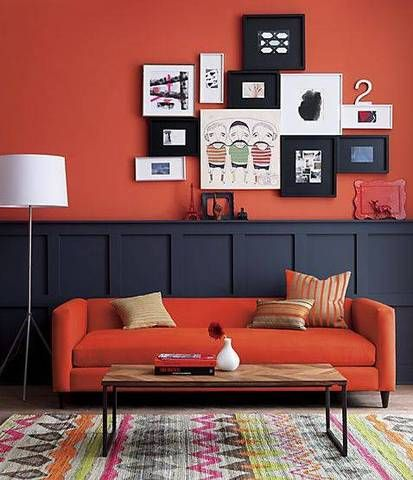 Incorporating Living Coral in your pre-existing decor is easier than you think and you simply must bring the essence of 2019 home. Use some of these ideas for starters – dress your windows with Living Coral curtains in solid color or with expressive patterns. Throw in some Coral cushions or just swap 2018's redundant trends by refurbishing your old sofas with textiles heavy with Living Coral! Rugs, blankets, paintings and eye-catching showpieces are the quickest ways to bring Living Coral to your living room. Spruce your home interiors with living plants, foliage goes beautifully with our color of the year!
Bedroom Decor with Living Coral
Lend an optimistic vibe to your bedroom with unrestrained use of Living Coral. If you're commitment phobic when it comes to your walls, look out for numerous wallpaper designs that display unrestrained and jaw-dropping prints in Living Coral.  Apart from bedding, rugs and curtains, Living Coral also lends an alluring feel to solid wardrobes. Create prints on your closet with Coral, Grey and White for a peppy, artistic element in your bedroom. You can even use the color on a certain wall to dissociate it from the rest to create an exclusive decor space or to demarcate that area for a certain purpose like reading, dressing up, etc. Fill the empty spaces on boring white walls with Coral-heavy paintings or switch up the frames of your personal photographs with Coral frames to draw your guests towards them!
Packing a Punch of Coral in Kitchens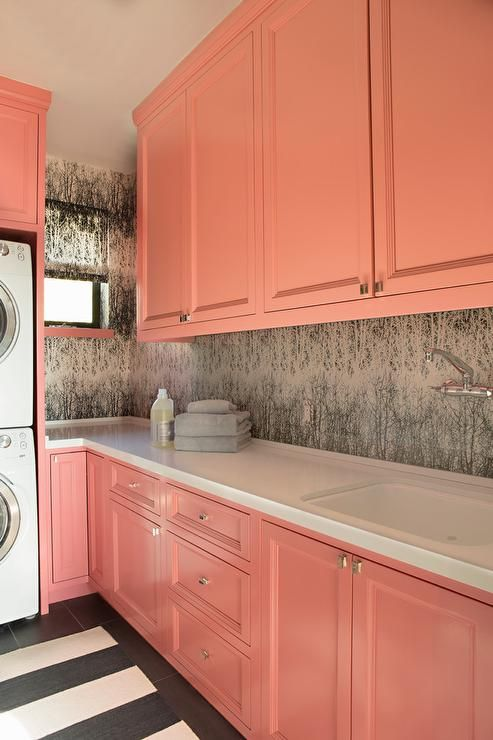 Backsplashes are making us swoon this year and what's better than to bring the warm tone to your kitchen using a display of invigorating coral to brighten up your kitchen! Paint your top shelves in Living Coral to give your eyes a break from conventional kitchens.  Don't want to make any changes? No problem! Buy ceramic ware in Coral tone and revel in the instant pop you've added to your kitchen!
Corals in Your Bathroom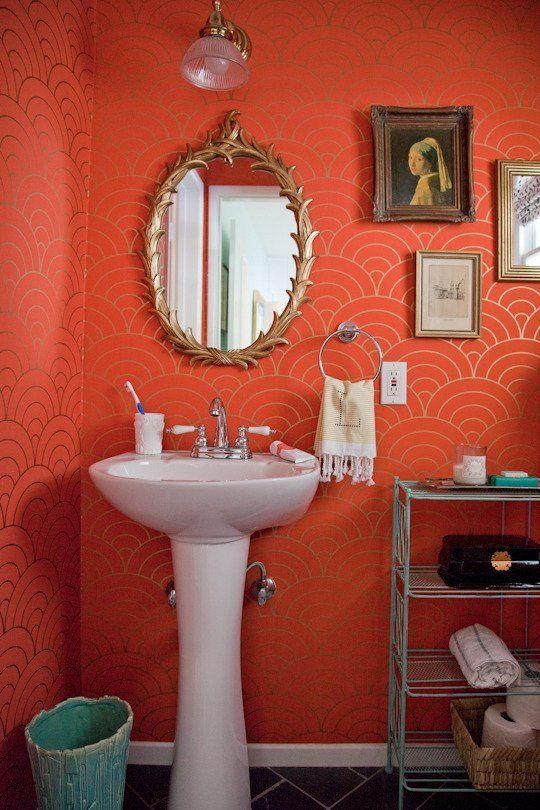 Corals in your bathroom undeniably exude a beach look and they shine up the place completely! Start with a popping Coral mat or shower curtains. If you like the addition, take bolder steps like painting your walls with Living Coral, alternating with grey, beige or simple whites to redeem the relaxing air common to all bathrooms. One experiment that will bring joy to your bathroom is painting the inside (or outside, if you're confident) of the door with a solid layer of Living Coral. It will be an unmissable sight!
The colour of the year is being celebrated for its unrestrained fresh energy and has proven to be an excellent choice to spruce up mundane interiors. Embrace Living Coral and create your own compositions that extend a palpable positivity around your home, while also keeping up with the trends of 2019!
For further design consultation, write to us or contact our team of designers at Atom Interiors.