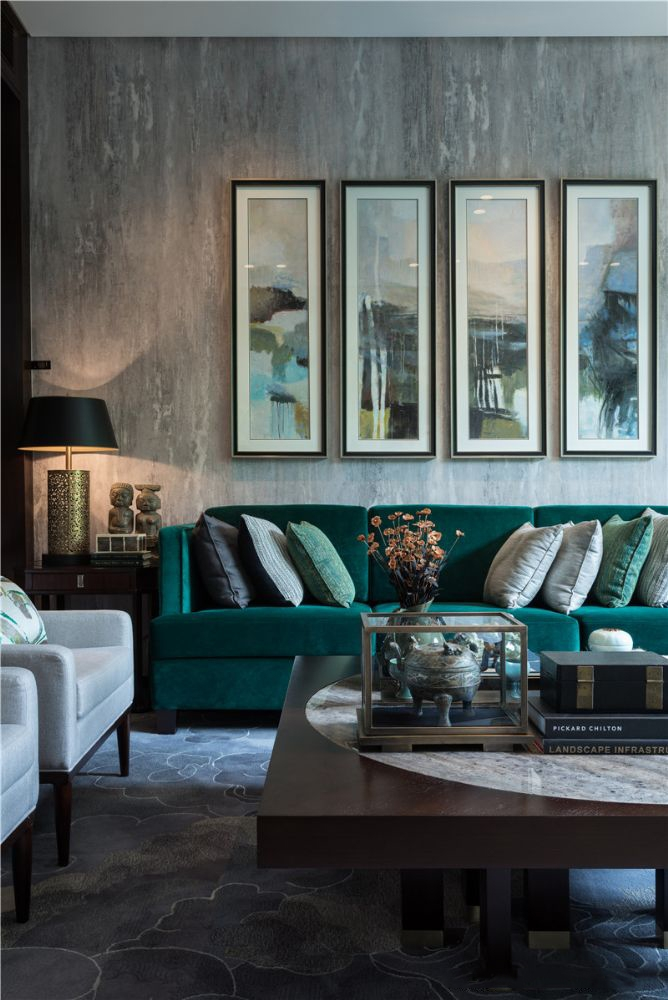 The year is 2019. Interior decor has become democratized, it has burst out of the enclaves of the affluent and become an art and an ongoing love affair between spaces and elements, broadened by colours. The jewel tone decor trend, sparkling up this year, has surfaced with bold, vivacious palettes inspired by deeply saturated gemstones. This brave decor aesthetic evokes a powerful expression and our designers hand-pick the jewel tones of the season that work wonders to revive a tired room –
Sapphire Blue Sparkle –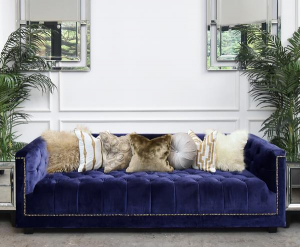 Among the gamut of blues, Sapphire Blue stands out because of its exuberance. A sofa in this deep, rich hue is unmissable – and it adds a dramatic focal point to any interior. When decorated with contemporary furnishings, it lends a fantastic plush effect. Colors like white, grey and beige pair well with Sapphire Blue to create an understated harmony, while orange, green, coral and ivory work a contrasting playful aesthetic. Upholstered Sapphire Blue sofas with tufted backs are trending right now. As green is a complimenting color, Sapphire Blue sofas can also be accentuated in interiors dotted with lush green plants!
Emerald Green Extravagance –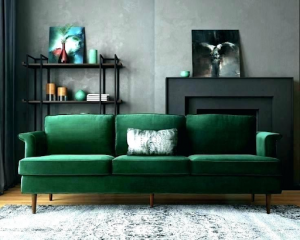 While Emerald Green is a rare sight, this calming yet wildly rich tone creates a statement like no other when it comes to sofas! Emerald green sofas look wonderful in a composition filled with wooden and gold textures, so use metal home accents and wood furniture to heighten its luxurious, uber-comfy look! The color is so versatile that it is complimented by a frenzy of colours – neutrals, yellow, range of blues and teal – just to name a few! Emerald Green works best on Tuxedo and Mid-century sofas, though it can also be incorporated in a tufted Chesterfield for a classy spirit!
Ruby Red Regale –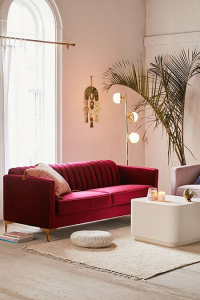 Tufted Ruby red sofas carry a timeless sensuality. It looks classiest on a Camelback sofa or the popular English Roll Arm sofa. In a white home, use the power of contrast to make your Ruby Red sofa a focal piece – a decor accent on its own! Ruby Red in a grey-dominant interior piques interest, so it is great for a refined living room that is aspiring for a tasteful and sensual ambience. Longish sofas with curved backs and velvety ruby fabric exhale oodles of charm and debonair in the living room!
Citrine Yellow Comfort –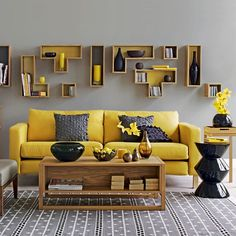 Citrine yellow packs a punch when used in furniture! It pairs well with plinth tables, glass tables and wooden accents. Though this colour works superbly on its own, monotones of white, black, grey, deeper shades of blue and softer shades of green effortlessly compliment with Citrine Yellow! This tangy jeweltone is widely popular in the form of pouffes and tufted chairs, while Tuxedo sofas in Citrine yellow also creates a modern, free-spirited look!
Amethyst Abundance –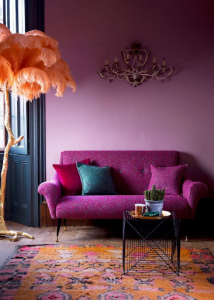 This dazzling jewel tone is the deep shade of lavender and being a part of the purple family – it exudes a rich extravagance wherever used! Amethyst works like a charm in maximalist interiors, where a beautiful tufted sofa in this jewel tone becomes an obvious focus point! It looks its best on velvet and when paired with neutrals, it lights up a minimalist home too! This palette rooted in traditionally royal tones can be offset with colors like icy blue, muted greys, soft pinks, browns and peach.
Amber Orange Arcade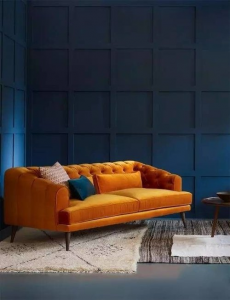 Inspired by the golden-orange gemstone Amber, a bright amber orange jewel tone sofa adds an urban-energy to any home. The blazing tone stands out best among complimenting colors like greys, navy blue, teal, olive and purple. To achieve a softer aesthetic, amber orange sofas works wonders with pinks and softer shades of brown. This jewel tone makes a statement in every style of furniture! Amber Orange accentuates the grain of wooden furniture so country-style homes look like a sunset paradise when decorated with generous splashes!
Jump on the jewel bandwagon by choosing these distinctive shades for your furniture! The intensity of jewel tones is what makes them so jaw-dropping and expressive, along with their power to add an instant touch of drama, while retaining regal sophistication. Juxtapositions of wood, glossy metallic accents and a palette of complimentary colors is the easiest way to create an artistic retreat, laced with luxury. Connect with our colour specialists at Atom Interiors one of the best interior designers in Bangalore and get the jewel of your home designed right away!