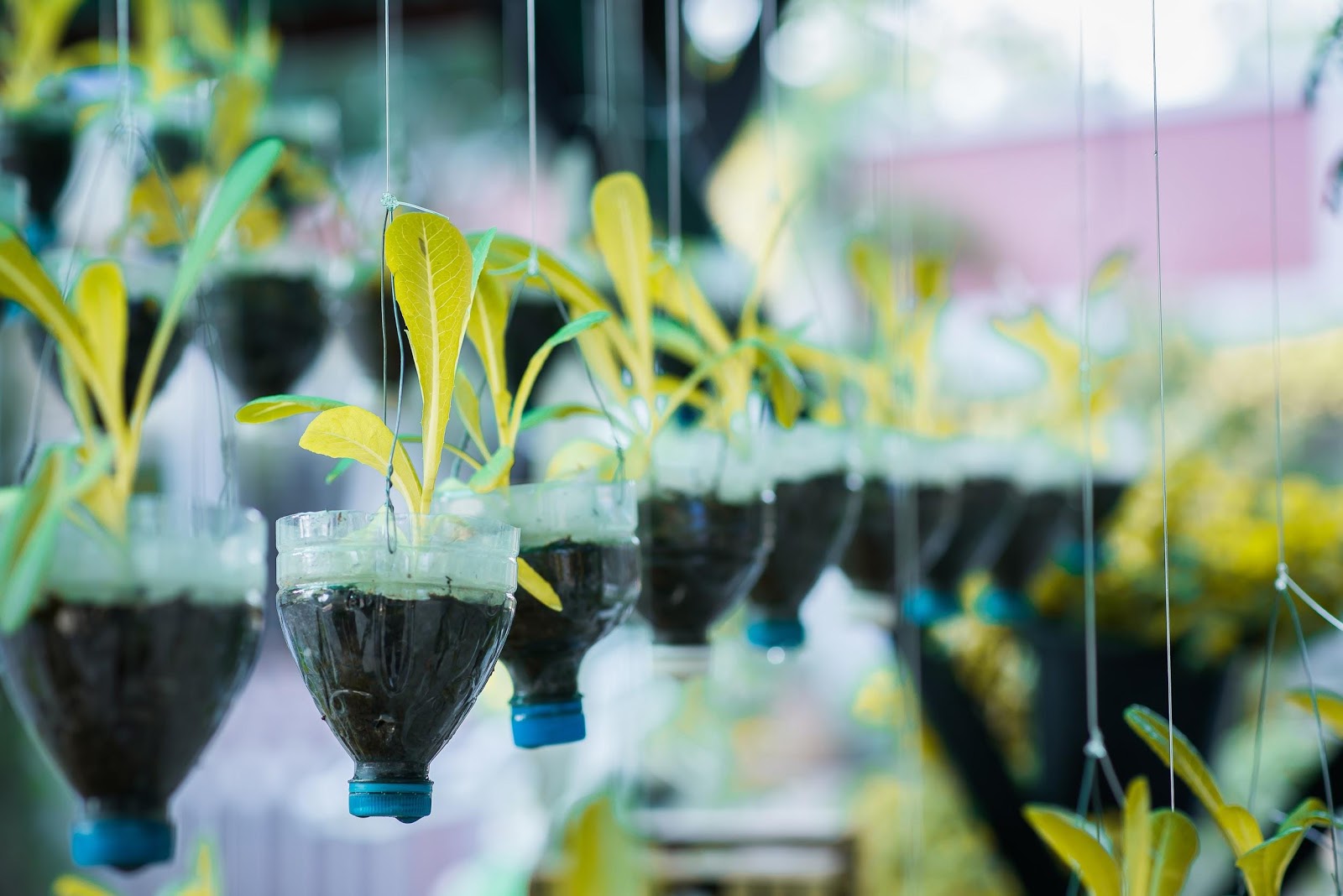 If you are thinking about to do something creative with the empty bottles that are going in the recycle bin then here are five steps to make a Modern Hanging Plants Wall From Recycled Plastic Bottles:

Step-1 Prepare your bottles
Use the sharp utility knife to cut off the base of the bottle about 1 inch from above the bottom and then wash and try the bottle thoroughly. Bottle can be of any shape and size. It depends on your house space and how you want to look them out. Specially, big bottle of 2 litres so that you can grow vegetables in which there would be space for spreading stem and leaves. It will also look bigger will attract people who come to visit your house.

Step-2 Tape edges and bind with thread by making whole
Cover the end part of the bottle with the tape or you can use colorful tapes for making it look attractive and beautiful. Now punch 4 holes around it at regular intervals for the twine. Cut equals lengths of twine and tie them with the thread securely through these holes. Make sure thread should be hard and can carry heavy items so that when you will hang it on the wall it will not break down. Next, when you gather the ends together the planter should hang straight down and not veer of at one angle or another. If it will be then when you will put water in the bottle then all water will go on one side and will be difficult to spread in all side of the bottle.
Step-3 Insert foil

Next step is to cut a short length of aluminum foil, roll it into a tube and line the bottle with it. This will add an insulating layer that serves a dual purpose. It will keep sunlight from drying out the soil and it will draw heat from those happy sunbeams to keep the plants roots toasty warn.

Step-4 Choose plant carefully

It's time to select your plants and put it into bottle carefully. Select your plant that you would like to grow. Make sure choosing plants depend on the where you are hanging plant wall. It is inside the home or outside because there would be different plants that can grow effectively inside and outside of the home. If you are growing plants indoors aim for culinary herbs like basil, parsley, cilantro, thyme and rosemary or simple lettuces like arugula. If you are hanging bottles outside then small plants can be tomato, peppers and even squash. Just make sure that the top of the soil of the outdoor plants, so they don't get depleted as they grow their fruits or vegetables.
Step-5 Put soil

Curl the tops of the seedlings In together to form a spear-like shape and thread that gently through pop bottle drinking spout so that leafy bit will come out and the roots/soil are dangling inside.

Step-6 Hang the planter

Now the last stage is to hang the planter. Make sure the sunlight should come directly on all the plants/bottles or in the rainy days you need to cover the part of space so that plants will not damage my overwatering. Also take into consideration the watering the need of every plants. You will be surprised how quickly your plants are growing. Treat them gently and lovingly and then will be joyfully thriving all around.

Call us for a free consultation today at
94814 94815