Take a sit-back for a look into the top 11 sofa styles to add onto your interior decor:
1. SECTIONAL SOFA:
A multi-piece sofa style which usually comprises of 3 and 5 segment configuration. With multiple fixtures connecting the pieces together, it can be arranged in various configurations spanning across the length of the room. The most common configurations are L-shaped and U-shaped.
2. CHESTERFIELD:
Quilted or tufted and mostly clad in leather, chesterfield sofas are a classic amongst sofa styles. Some have the quilted pattern only on the back and arm rests, whilst some have it extending into the seating area as well.
3. LAWSON SOFA:
Comfortable cushioned sofa with pillows stacked back separate from the frame, for ultimate freedom of movement. Lawson styles sofas are designed for comfort and are available in multiple size, colours and materials.
4. ENGLISH:
Also known as the English Rolled Arm are sofas known for their high backs and low arm-rests, which are so low that they almost appear armless. The level is cushioning is fairly good but held back but tight upholstery.
5. CAMEL BACK:
The most distinct feature of a camel back sofa is the highest point of the back rest is in the center and it arches into a curved line like small dunes to form the arm rest. Exposed wooden legs are another prominent feature of camel back sofas.
6. CABRIOLE:
The unmistakable cabriole sofa design has a long line extending from arm to arm, a continuous consistent lined height from backrest to armrest. Traditionally with wooden trim along the edges, they are often available with ornate elements or with ceaseless cushioning.
7. CHAISE LOUNGE:
Popularly seen in elite master bedroom suites, they ooze luxury into the interior setting with ease. The most typical of chaise lounge sofas are seen with one arm rest supported by long length pillows assisting its regal look.
8. LOVESEAT SOFAS:
Made as a two seater, it is the most common type of living room sofa. Strictly made with space to accommodate two people sitting, it makes good small sitting areas at one corner of the living room or at the foot of the bed. The variations in loveseats can range from cabrioles to chesterfields.
9. DIVAN:
Another regal addition to the list is the Divan. Divan is a sofa seater without a back, would mostly require to be placed against a bare wall with throw pillows to provide a cushioned back or any such pillow placement.
10. SETTEE SOFAS:
A sofa in the form of a extended wide chair. As close as the resemblance is to loveseats, it is much narrower. A settee is much less comfortable compared to other cushioned sofas but functions as a wide dining room chair with arms at best.
11. SLEEPER SOFAS:
Sleeper style sofas range from pull-out functionality to do-it-yourself bunk beds to even day-beds. Pull out sofas are the most common form of sleeper sofas as they are fun and functional. While the back remains fixed, the extendible portions rolls out from under the belly of the sofa. Whereas, a Futon style of sleeper sofa has the convertible option of pulling down the back of the sofa and turning it into a single bed. A more low-key version of a sleeper bed is the Day bed. Day beds allow you to kick back with your feet up for an afternoon siesta.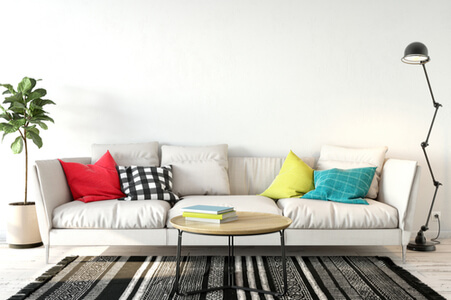 The option ranges through minimalist to ornate, from functionality to aestheticity. To make the right choice for your statement sofa, hire professional advice from Atom Interiors.
Call us for a free consultation today at
94814 94815