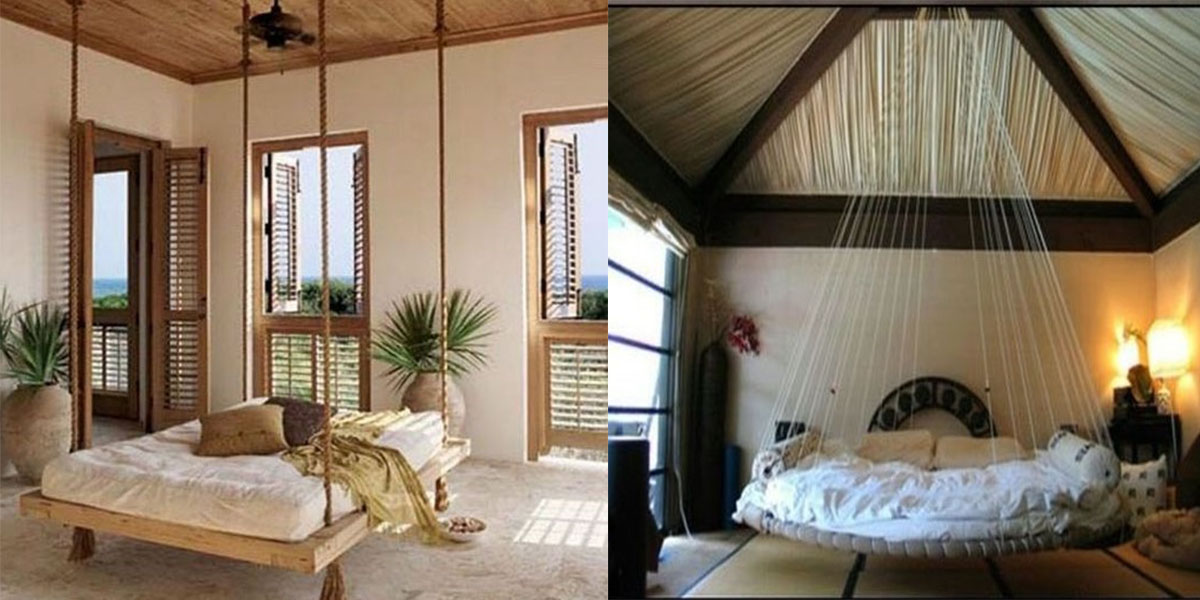 Swings- as a child, the vision of a swing holds pure joy, adventure, and excitement. As adults, it's a one-way ticket back to the good old days so why let go of those emotions, why not bring them home? Swings are not just a form of escapade; they can transform a living space effortlessly by modernly taking it up a notch.
The latest trend in bringing back fun to almost any kind of interior décor are Indoor swings. An indoor swing along with making a style statement adds a perfect amount of whimsical edge to your decor. Perfect for making ideal ambiance at home for relaxing after a long day or for much-needed unwinding on a weekend. The décor of your room not only transforms when you include a hanging swinging piece of furniture but it also underlines the interior. It acts as a modern rather intriguing object in the midst of the ordinary
Why should you bring a swing indoors
In addition to making your home happier, lighter and a lot more fun, it also includes a romantic twist to your interior bringing in fun around the house for kids and adults alike. Swings are a pleasantly unique interior design that transforms your space within four walls into a fun retreat. It successfully brings indoors the outdoor entertainment and evening laze.
Give these scenarios a thought
A strong cuppa coffee in the morning while swinging gently on the couch, reading the newspaper, enjoying the morning view of your safe haven.
Loosening up after dinner while basking on the evening sky and sounds of nature from your balcony.
Having a shallow pool of water tease your toes as you relax on a swinging chair on your backyard.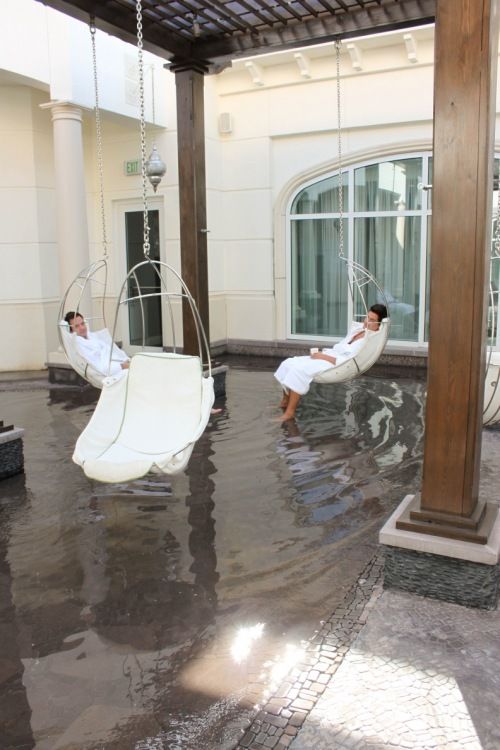 The couch could be suspended or the entire living room seating could be suspended- providing relaxation to every member of your family. These could be suspended in living rooms, balconies, backyards, reading rooms or better yet- bedrooms. There are many ways that this trend could be invited into your home:
A traditional rope hammock is renowned as the most comfortable way of lounging on a tropical holiday, so why not bring it to your reading/study room and pop into it with a book.
A big shapely chair which could hang from the ceiling and be filled to the brim with cuddle-worthy pillows for the most comfortable afternoon siesta.
Suspended or Stable?
All swinging furniture do not require to be suspended from ceilings, they may also be accompanied with a stand-in built exclusively for accompanying the seating. With the advantage of being portable, you can move them from outdoor to indoor easily as and when you wish but with a fixed suspension you are provided with much more stability and forgo the risk of falling over.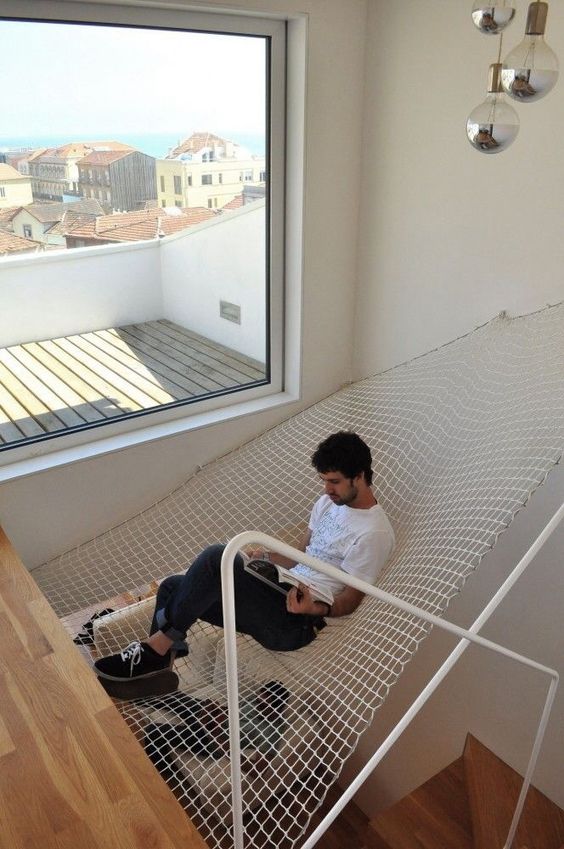 New Thought
Modern living rooms, millennial office spaces, contemporary kitchens, baby rooms, hallways, kids rooms and study rooms make for excellent creative spaces to adapt this trend. While swinging hammocks, hanging seats, garden furniture and light tents are already popularly adopted, the idea of a bed with its four posts being suspended from the ceiling is still very modern contemporary till date.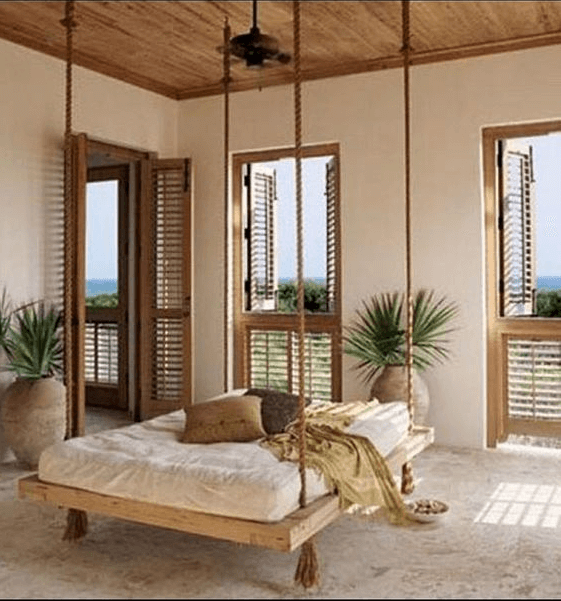 Hanging Beds
With no need for high ceilings or any other special grounds, the swing set up can be added to your interior with inspiration from simple loft beds.
The suspended beds provide a taste of luxury such that with a soft mattress and some satin pillows offer more tranquillity than just comfort.
There is more area for room ventilation and air circulation within the four walls allowing for good vibes to circulate.
Rather than just being an interesting alternative to regular beds, they bring so much more to the interior décor solely sprucing up the room be it an adult's room or a child's.Charming yet intriguing and they make for splendid oomph factors of discussions with guests. This minimalist design brings in a unique sense of character to your bedroom space and it could really define your style quotient of your sum total interiors.
Hanging beds from the ceiling maximize small spaces and allow more comfort in bedroom spacing showing off the room's full potential. Allowing functionality over design with convenient storage, this design intervention ups a regular bed any day.
Put together a fantastic pulley system and high-quality heavy ropes, the hanging bed can be swung to the ceiling whenever more space is required around the room, creating a spacious chamber during the day. The beds mounted on ceilings save ideal space for teenagers, middle school kids, and every other small room.
These beds blend style with functionality laced with comfort, turning an outdoor seating into an interior setting.
Fascinating as they are, they are rather simple in design-four heavy duty ropes running along the corners of the bed, knotted strongly at the bottom or with slim strong metal cords. Hire professionals to bring in more ideas around this concept for your new home or update your current place of residence and experience the ambiance transformation for yourself.
Call us for a free consultation today at
94814 94815